Welcome to
Campbell Chiropractic Center!

New Patient Center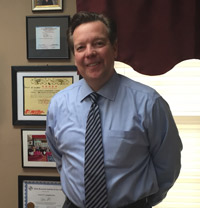 All ages of people will feel warmly welcomed and comfortable at Campbell Chiropractic Center. Our chiropractic assistants are here to greet you and help you feel right at home.
We recommend that you download the new patient paperwork from our website and bring it completed so that we can immediately begin when you arrive. Please bring your insurance cards in with you so that we can verify your coverage.
Your First Visit
Please plan on being here for 30 minutes. You'll meet Dr. Campbell for a consultation to make sure that we can help you with your concern. If so, we'll get started on an examination and digital X-rays, if needed. You can then schedule a follow-up visit to go over your findings.
Your Second Visit
When you return, Dr. Campbell will have an analysis of your X-rays and examination findings prepared to discuss with you. You'll get our treatment recommendations and have your first chiropractic adjustment. This appointment takes about 20 minutes.
Follow-Up Visits
We value your time. A regular appointment will usually start with having a form of physiotherapy modality as appropriate to your condition. You'll then see Dr. Campbell for an adjustment and be sent home with any home care instructions that may help your healing. These visits take 10 minutes or less.
Once our patients feel the difference chiropractic care makes in their lives, they usually choose to have periodic visits that help them maintain their health. In today's complicated insurance world and with medications that have dangerous side effects, we are proud to be the primary care provider for many area families. You need to go to work; your children need to be healthy; and you can't waste money on ineffective medical treatments. Chiropractic may help where other avenues may have failed you.
Experience our natural solutions to restoring your well-being. Schedule your appointment with us today!