East Brunswick Auto Accident Care
Don't Delay Your Care!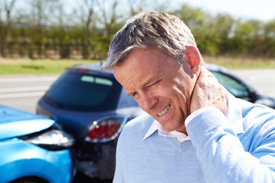 Over three million injuries are sustained every year from motor vehicle crashes, such as whiplash and brain injury. The cost of these debilitating collisions is huge — more than $28 billion!
Unlike many types of diseases, some of these injuries may be preventable in the hands of a trained East Brunswick auto accident specialist.
Get on the Road to Recovery
When you've been in a car collision, you deserve to be seen immediately by someone with experience to treat you. Dr. Campbell has advanced certification in automobile accident injuries through the Spine Research Institute of San Diego, a leading research center.
At Campbell Chiropractic Center, we understand the physiological and physical implications of a car crash. We'll help you recover as quickly as possible. Dr. Campbell's training involves participation in the annual CRASH program. This program focuses on reconstruction to better grasp the loads and forces put on the spine and brain in a collision. By understanding this form of trauma, better diagnostic methods and treatment can be determined.
On-site digital X-ray facilities are available to allow us a full understanding of your condition.
Call to book your appointment for East Brunswick auto accident care!