East Brunswick Pediatric Chiropractic
Starting Chiropractic Care Early in Life
Dr. Campbell's drive to join the natural healing profession was due to his personal experience with chiropractic care as a child. Faced with recurring illnesses and neck pain that medical doctors couldn't help, he finally sought the help of a chiropractor.
He then realized that he could play a role in preventing other children from having the same experiences, giving them a chance at a healthier life, and became a chiropractor.
We see all ages of children, from newborn babies up to teenagers. There are some patients that we started to see when they were born and are now in college or even before birth by treating Mom when she was pregnant with them!
Customizing to Your Child's Needs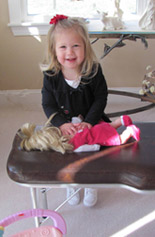 Our youngest patients at Campbell Chiropractic Center receive care with a gentle, effective touch that is comfortable not just for the child, but for their parents, too. Each adjustment is tailored specifically to the child and takes pressure off their nervous system so their body can function normally.
The many conditions that respond incredibly well to family health chiropractic include:
ADHD
Allergies
Asthma
Bed-wetting
Colic
Ear infections
Spectrum disorders
We've even been fortunate to see many children who have been able to reduce or eliminate their asthma medications after being under chiropractic care.
Reach out to find out more about East Brunswick pediatric chiropractic!