Advanced Training in Treating Automobile Accident Injuries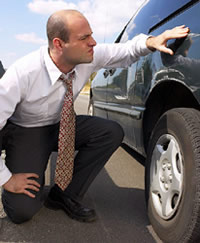 Don't Delay Your Care
Dr. Campbell has advanced certification in treating injuries due to automobile accidents. This training DOES make a difference! He is aware of how to effectively treat these injuries, knowing the physiological and physical implications of motor vehicular crashes.
Put your recovery in the hands of a specialist.
The following is a recent press release from the Spine Research Institute of San Diego, describing a research program that Dr. Campbell has participated in.
Press Release for CRASH
In order to more effectively treat persons injured in motor vehicle crashes, Dr. James Campbell recently participated in the annual CRASH program hosted by the Spine Research Institute of San Diego – one of the leading motor vehicle crash injury research centers in the U.S. CRASH 2003 was also sponsored by the Center for Research into Automotive Safety and Health (CRASH), a non-profit organization dedicated to advancing the public health and welfare by improving the crash-worthiness of cars, light trucks, SUVs, and vans.
For the past 17 years, the Spine Research Institute has focused on the more common spinal injuries sustained in everyday motor vehicle crashes, such as whiplash and mild traumatic brain injuries. Over 3 million such injuries occur each year and result in debilitating injuries in an estimated 500,000 persons, at a total cost in excess of $28 billion. And, unlike many diseases, many of these injuries are preventable.
This year's research agenda included validation studies using the new rear impact dummy (BioRID 2), manufactured by Denton ATD, Inc., one of the leading manufacturers of crash test dummies in the U.S. The dummy, which has also been tested by several European organizations and auto manufacturers, as well as U.S. automakers and the Insurance Institute for Highway Safety, was placed in cars beside human volunteers and subjected to various crash loads. Researchers hope to validate the dummy for biofidelity – the quality that assures them that the dummy can serve as a valid surrogate for human subjects in crash tests of higher speeds where the risk for injury would preclude using human volunteers. Pedestrian crashes were also staged using a specially made pedestrian crash test dummy.
As part of this unique three-day program, Dr. Campbell also learned the very latest methods of low speed automobile crash reconstruction to better understand the forces and loads imposed upon patients' spines and brains in low speed crashes. By understanding the unusual biomechanics of this form of trauma, diagnostic methods and treatment can be much more effectively administered in the clinical setting.
Be sure to get help for your East Brunswick auto accident. Call us to get started!